Watch Gurufish Live at Palm Door on Sabine
GURUFISH Pimp St. (Official Music Video)
http://www.Gurufish.com "Pimp St." by GURUFISH Announcing the release of the new Gurufish video "Pimp St." from the album: Mohair Supreme Directed by: Ross S...
Watch Gurufish Live at Palm Door on Sabine Saturday, March 21 Starting at 9:00pm

401 Sabine st Austin, Texas.

"Sexy, funky-as-hell, pop music" is what critics are saying about
Gurufish (Ear Magazine). Electrifying audiences everywhere
with their own provocative blend of pop, funk and soul, Gurufish excels
at weaving irresistible melodies around hypnotic, funky grooves
to give birth to songs that are hooky, sexy and sophisticated.
Tasty tunes served with generous injections of funk and soul
galvanized by their dazzling, high-octane live show is what
garnered Gurufish the distinction of being recognized by the
GA Music Awards as Georgia's Best R'nB/Funk Band for 2014.

Gurufish was founded by singer/songwriter/producer
Jimmy St. James who is accompanied by co-writer Matty Haze
on guitar, Juan Woodfork on bass, Steve Dixon on drums and Eugene
Russell IV on sax and backing vocals. Performing live as an 9 piece
ensemble, they are currently playing dates in support of their critically
acclaimed release, "Mohair Supreme", while recording and preparing for a new release in the spring of 2015. Gurufish has shared the bill with such prestigious acts as: Meaghan Trainor, The Brand New Heavies, Derek Trucks,The Flaming Lips, Galactic, Cypress Hill,
Ghostland Observatory, Mother's Finest,Nikka Costa,P.M. Dawn,
The Spin Doctors,Colbie Caillat, the Indigo Girls, The White Stripes,
LMFAO, The Isley Brothers, Foreigner, K.C. & the Sunshine Band,
the Rebirth Brass Band, and the P-Funk Allstars.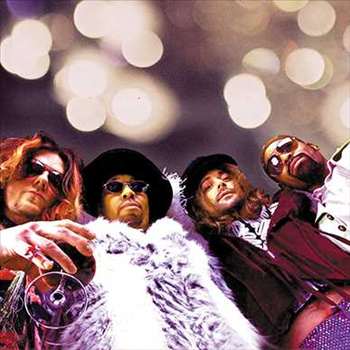 Written by
Sex, Funk, Rock 'N Soul
Post a comment